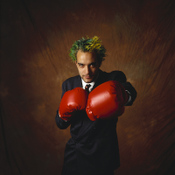 Think you've got what it takes? Are your marketing ideas usually the ones that are greeted with a hallowed hush of awe?
If so, then step into the ring with other marketing virtuosos.
My friend Gavin Heaton and the fashion mavens at The Bargain Queen have cooked up quite the contest. The entries will be voted on in round-robin style — being narrowed down until there is only one left. This means that no one and everyone is the judge of what makes a great campaign. This should be fun!
What's in it for you? If you win, you get bragging rights, get to stretch your mental marketing muscles and the grand prize is an Apple iTouch.
Before you scoot over to Gavin's blog to get all the details, ponder this.
For the cost of an Apple iTouch — do you suppose this little contest will drive traffic, links and subscriptions at the Bargain Queen? Seems like quite the bargain (no pun intended!) doesn't it?
How could you harness this idea for your own?