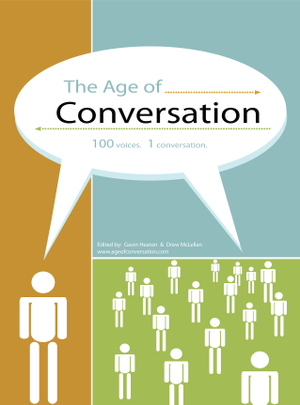 4 months.  Over $11,000 raised for Variety the Children's Charity.  Pretty impressive — thanks to the talents and efforts of the 103 Age of Conversation authors.
But truth be told, 90% of the book sales came within the first 60 days and have trickled in since.
So, we've decided to try something different.
In the lead up to Christmas we have another opportunity to raise another $10,000 or maybe more, but to do this we need to break out of market that we have made.
We need to take advantage of the booksellers list and the opportunities afforded by online retailers. What we're going to do is to list the Age of Conversation with Amazon and all other book sellers around the world.
The proceeds to Variety will remain constant — they will get as much per book as they always have.
But a few things need to change to make this happen, based on the rules set by the online book sellers.
As of November 30th…
The hard cover version of the book will be discontinued.  (You can still buy it in bulk)
The paperback version of the book will no longer be available directly through Lulu.com (again, can still be bought in bulk)
The e-book will remain on Lulu.com for the same price
All of that makes way for:
The paperback version will appear on Amazon and other book sellers throughout the world.  (at an increased price to cover the book sellers' commissions.)
A new surge of blogger activity, virtual book tours and other great word of mouth marketing efforts.
Please jump on board…help spread the word and participate however you can.   And if you want to buy copies of AoC for yourself, clients, family members or library — grab all three versions before November 30th!
Update:  The soft cover book is currently $16.95 (US dollars) and will go up to $30 (so we can cover the book seller's cut).