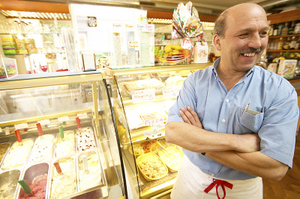 This might ruffle a lot of feathers, so let the comments fly.  With very, very few exceptions (and I mean very, very) you should not be in your own TV spots.  And in most cases, you shouldn't be in your own radio ads or voiceover work either.
I know…but you are different.  People tell you how good you are. 
They are lying. 
They aren't being mean.  They either have no clue how to evaluate if you are good or not, or they are being polite.  Honestly, in most cases, they are being polite.  Either way, you are not good. 
You look uncomfortable.  You sound uncomfortable.  Frankly, you come off a little stiff and uptight.
If I have not brought a curse upon my house with the above statements, let me add this.  Your kids and grandkids shouldn't be in your ads either.  They may well be cute as a button but that doesn't mean it's a good choice.
I recognize how intoxicating the attention and comments are.  "Hey, saw you on TV.  You looked great!"  But you are paying a pretty penny to garner a compliment or two, aren't you?
Let's try to be objective here.  If you saw an ad where the spokesperson was awkward, uncomfortable, stiff or just looked amateurish, would that give you a sense of confidence about their product or service? You've got enough competition and obstacles when it comes to selling your wares. 
Bottom line – don't let your ego or an overzealous sales rep tell you it's a good idea for you to star in your own commercials.  Use professionals in your advertising.  It's worth the investment.
Unless I know you.  Then, you look great.