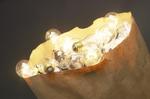 From time to time, I'm going to share a mixed bag of ideas, marketing tips, brilliant writing and sometimes — something that just made me laugh out loud. Here's today's offering:
This one had me thinking.: Here's today's offering: If you don't already know about Christine Kane's blog on creativity — you need to discover it. Quickly.
Christine brings back an idea she shared last year. Rather than setting a resolution — why not choose ONE word to be the guiding principle of 2008? Her post really triggers some soul searching.
This one had me signing "Happy Birthday" to all blogs!: NPR is doing a series on blogging to commemorate the 10th anniversary of blogs. They've got a great mix of audio interviews, articles and information. Really fascinating stuff. Hat tip to Susan Reynolds who shared this link with me via twitter.
This one has me saying "duh!": The New York Times declares that blogging is a low cost, high return marketing tool. Duh. This flash came to them based on a survey done by American Express. The article goes on to say that blogging requires writing skills and a time commitment. I'll be damned.