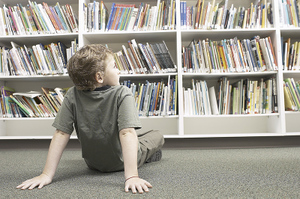 I am very late to a meme that started in early November. My pre-vacation prep and time away just kept me from getting to this.
I was tagged by both Cam Beck and Phil Gerbyshak — both avid readers and among my favorite bloggers. Speaking of favorites — if you've read this blog for any length of time, you know I really love books. I love listening to them, reading them, and being surrounded by them. (Check out my bookshelves!)
You can learn a great deal about a person by discovering what books they read and love. That's the goal of this meme. Let's jump in.
How many books do I own?
Geez, I have no idea. The house is filled to the gills with books and we probably have 4 or 5 bookshelves at work too. So suffice it to say, many, many books!
Last book I read
Join the Conversation by Joseph Jaffe AND I Dreamed I Married Perry Mason by Susan Kandel.
Last book I bought
Not counting holiday gifts (I love to give books!) it was Now and Then by Robert B. Parker.
What I'm currently reading
I have several books going right now. Now and Then (see above), Herd by Mark Earls and Lead With Your Heart by Lewis Green.
What I'll read next
On the road, I am getting ready to start Bad Business by Robert B. Parker (audio book), and the next two books in the pile are The Inside Advantage by Robert H. Bloom and The Watchman by Robert Crais.
What's on my wish list
The list is, as always, bulging. But a couple that top the list are Walt's People: Talking Disney with the Artists Who Knew Him by Didier Ghez and Juicing the Orange by Pat Fallon.
5 Meaningful Books (for me)
1. Odd Girl Out (Rachel Simmons)
2. Still Life with Woodpecker (Tom Robbins)
3. Radical Leap (Steve Farber)
4. Selling the Invisible (Harry Beckwith)
5. The Journey of Desire (John Eldredge)
Okay, tag time….(I apologize if you have already been tagged, I know I'm late to the party!)