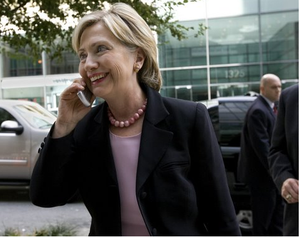 Yes….me. She wanted to tell me her stand on the issues. And I know you'll be stunned to hear this, but Hillary isn't the only one calling.
I've heard from Mitt, Mike, Obama, Rudy, Bill, John, Chris and all the rest.
Impressed? Don't be.
They don't want to talk to me, they want to talk at me. Welcome to living in Iowa during a caucus year. Spending is at an all time high (over $15 million to date and on the rise) and one of the more popular tactics apparently is the personal phone call.
Well, not exactly personal. In fact, downright impersonal. I pick up the phone. I say hello. I wait. I say hello again. Finally, a recorded message from a candidate begins.
I hang up.
Come on, people. You say you are smart enough to run the country but you really think the recorded phone call method favored by cable TV companies and other automated sales forces is an effective marketing tool?
I know it's cheap at first blush. Pennies per Iowan versus the big bucks of TV, radio and print. But it's annoying and costing you votes. Not so cheap, perhaps.
Robo calls, as they're known in the biz, are the second most popular tactic for politicians. Nearly 2/3 of all registered voters in the U.S. received at least one call in the past year. The only thing that tops it is direct mail.
The calling is such an aggravating tactic that 9 states (including Iowa) are considering legislation to ban these robo calls.
The marketing lesson here — be smarter than a politician. If your marketing tactic is so irritating that people are proposing a law to stop you from doing it — best look for a new tactic.
I'm sure Hillary is going to call again. Anything you want me to tell her?
P.S…and apparently this brilliant marketing tactic isn't just being used by American politicians!