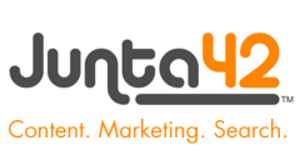 Whether we are talking "old" marketing or "new" one thing hasn't changed. If you aren't relevant, you won't survive the scrutiny of an audience that is time starved and attention span short.
To make this point, Junta42 has released their Top 42 Marketing Content blogs. They define content marketing as:
"Content marketing is a marketing technique of creating and distributing relevant and valuable content to attract, acquire, and engage a clearly defined and understood target audience – with the objective of driving profitable customer action."
As you can imagine, I'm honored that my blog was included, as well as Daily Fix where I also get to show my pretty face.
Truth be told…there are lots of lists out there. And it's always nice to be included. But, I figure the value in them is that they introduce us to thinkers and writers we might not have met before. So, with that caveat — if you want to learn more about content marketing, take a lesson from these masters.
Many of these are on my must read list, but I discovered some new blogs as well. Even if you just add a couple to your feed reader, you're going to be glad you did!