Hopefully you will be in New York City with all the other Blogger Social attendees (see list of who is already on board at the end of this post) featured in this very special video.
Many thanks to Mark Goren for his help with making this video. All information on Blogger Social '08, including registration is available here.
Here's the deal. If you are already on board — please grab the collage and the video and spread the word on your blog.
If you have not registered — you have until February 15th. That's it. No extensions. No excuses. I promise you — this is going to be a party not to be missed.
Check out this beautiful collage, created by Mark Goren and Luc Debaisieux and the list of attendees to date. Can you imagine all of these people in the same room? Can you imagine NOT being there? (Click on collage to get full-sized version)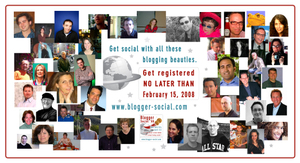 Attendees so far include:
Susan Bird
Tim Brunelle
Katie Chatfield
Terry Dagrosa
Matt Dickman
Luc Debaisieux
Gianandrea Facchini
Mark Goren
Gavin Heaton
Sean Howard
CK
Valeria Maltoni
Drew McLellan
Doug Meacham
Marilyn Pratt
Steve Roesler
Greg Verdino
CB Whittemore
Steve Woodruff
Paul McEnany
Ann Handley
David Reich
Tangerine Toad
Kristin Gorski
Mack Collier
David Armano
Ryan Barrett
Lori Magno
Tim McHale
Gene DeWitt
Mario Vellandi
Arun Rajagopal
Darryl Ohrt
Joseph Jaffe
Rohit Bhargava
Anna Farmery
Marianne Richmond
Thomas Clifford
Lewis Green
Geoff Livingston
Kris Hoet
Connie Reece
CeCe Lee
Jonathan Trenn
Toby Bloomberg
Seni Thomas