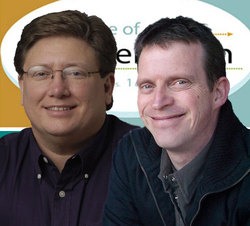 One of the best things about today's technology is that the world is a much smaller place. With free tools like skype and even the taken for granted e-mail, we can stay connected to the world.
ooVoo takes that to a whole new level. Video conferencing with up to six people. All you need is a webcam, a headset with a mic and the free download of ooVoo (both mac and PC).
To create some buzz, ooVoo is doing a pretty cool thing. MyooVoo Day. (Check out Mack's comments on the event.)
For this week, they've lined up some marketing and blogging gurus and each of those folks is hosting a 1-2 hour chat with people just like you (the complete list here). Big names on this list…so check it out!
Best of all, for each session being held — they are donating $1,500 to the Frozen Pea Fund in support of Susan Reynolds and breast cancer research.
Okay….so we've got chatting with smart people about marketing. We've got supporting Susan and fighting breast cancer. We've got cool and FREE technology. I'm so in!
I e-mailed my Age of Conversation cohort, Gavin Heaton, and said….who cares if we're not famous or even that smart like the rest of the hosts — let's see if we can host a session! Fortunately the guys at crayon (the genius behind the campaign) lowered their standards and let us in.
What are you doing Saturday the 16th (or Sunday the 17th if you're in Gavin's neck of the woods) If you think spending 15 minutes with Gavin and I would be fun….sign up here. 4 pm EST. 8 am Aussie time. Compare your timezone here.
Thanks to my friends Scott Monty and Greg Verdino for bringing this opportunity to all of us.