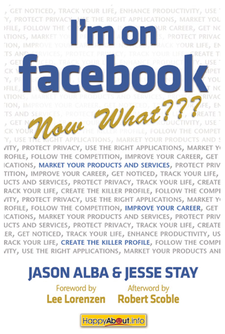 I've had Jason Alba and Jesse Stay's new e-book I'm on Facebook – Now What?? for a few weeks. I'd planned on reviewing it sooner, but I found it to be incredibly slow reading.
Why?
Because every few pages, something they wrote had me going back to my Facebook account and adding, subtracting or adjusting something.
Jason and Jesse have created a very clear, concise guide to the many ways you can enhance your professional life with Facebook. There are plenty of screen shots and examples to illustrate their points. One of my favorite features is that each chapter ends with a little "To Do" list that helps readers apply what they just learned.
As you would imagine, the book is structured to take a novice from start to finish. So if you're already a seasoned Facebook user, you can skip the first chapter or two. The meatiest part of the book are the center chapters but they are nicely bookended with the intro to Facebook on the front and the etiquette and glossary on the back.
Here's how the book is laid out:
Introduction
Chapter 1: Getting Started
Chapter 2: Getting Involved
Chapter 3: Commonly Asked Questions
Chapter 4: Facebook Applications
Chapter 5: Privacy
Chapter 6: Your Facebook Strategy
Chapter 7: Facebook for Business(es)
Chapter 8: Facebook No-No's
Chapter 9: Additional Resources
Conclusion
Appendix A: Non-storable Data
If you're looking for a lot of background on Facebook or big picture statistics — this isn't the book for you. But if you want to dig into this social media tool and really make it work for you and your business — it's well worth the read.
You can buy it straight from their publishers. They also (of course) have a blog on the topic.