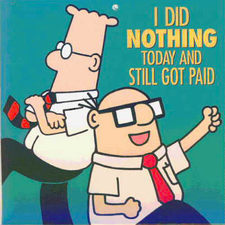 See how familiar this sounds:
"At XYZ Corporation, we work with integrity to deliver value driven solutions that propel our clients to their ultimate success. We do this with a spirit of fairness, teamwork and recognizing that the XYZ family is our greatest resource."
Blech. Lots of words. Very little meaning.
Mission statements. What is it about them that is so difficult for most companies? For every good one out there, there are 100 that make you just scratch your head.
My most recent post at Marketing Profs Daily Fix explores the struggle that many companies have with creating a mission statement that actually says something meaningful about their organization. Come join us in the conversation.
Or….feel free to go the Dilbert route — this is worth a laugh or two.
Related posts:
Does your mission statement sound like this?
Do you have a brand inferiority complex?