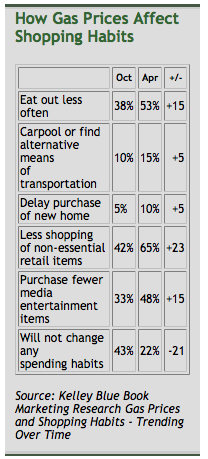 If not, you are in the minority according to research released today by Kelley Blue Book.
"Gas prices are already affecting vehicle sales in every segment, and traditional sport utility vehicles have been especially hard hit," says Jack Nerad, executive editorial director and executive market analyst for Kelley Blue Book. "Other industries will feel the pinch as consumers cut out life's little luxuries like clothes, eating out and entertainment just so they can pay the fuel bills."
Check out the chart to the right to see the significance in the numbers. The declines in spending are across the board — big purchases and small.
6 months ago, 43% of consumers said they were not going to change their spending habits. Today's numbers show that almost half of those people have now changed their mind.
This is our reality, so it is certainly interesting from that perspective. But let's look at it as marketers for a minute. The world has suffered recessions before and spending bounces back when the economy does, right?
But what happens when there is no bounce back?
Rising gas prices are not showing any signs that this trend is slowing down. In fact, here in the US, a gallon of gas is expected to top $4 by summer and rise to $5.50 by 2010 and $7 by 2012.
So waiting it out isn't the answer. What do you think is? How will you have to change the way you market your product or service?