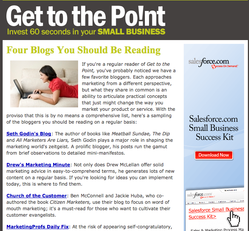 Marketing Profs Get to the Point newsletter recently named the four blogs you should be reading.
I'm humbled to tell you that Drew's Marketing Minute is on that list with some truly brilliant blogs. They are all definitely on my personal Must Read list! Along with this blog, Marketing Profs recommended:
Seth Godin's blog: The granddaddy of marketing bloggers, Seth's posts are usually pithy and to the point. He always delivers food for thought with a twist. And as further proof of his stature, his last name is unnecessary — he's achieved Cher-like status!
Church of the Customer: It was reading Jackie Huba and Ben McConnell's book Citizen Marketers that opened up many eyes to the power and the potential of social media. They tell great stories and are always worth the read. They are also very accessible and engaged with their fellow marketers.

Marketing Profs Daily Fix*: In a spirit of full disclosure, I am one of the Fix's bloggers. But that not withstanding, editor Ann Handley has assembled an amazing and wide-sweeping group of marketing experts who explore every topic under the sun. There are often more than one post per day and you will be hard pressed not to find something of value.
As I said….this is a lofty group to be a part of and I'm grateful for the mention among these remarkable resources.
Note: The Get to the Point newsletters are a fantastic way to let them do the filtering and finding of exceptional information and resources. You can sign up for newsletters focused on: Small Business, Marketing Inspiration, Customer Behavior or E-mail Marketing.
You can sign up for the free newsletters on the Profs site. They're going to be adding some additional topics (B2B Marketing, Marketing Optimization and New Media) but you can sign up for them now.