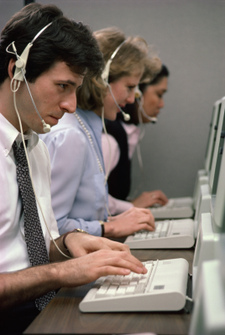 Every day, I get a call from someone saying, "Hi, I'm just calling you back to see if you want to do business with me." Okay, they don't quite say it in those words, but that's what they mean.
I've already spoken to them. I know what they do. And if I had needed it, I would have called them. They're offering no new information. But, I got put on their calendar for a call back or follow up e-mail.
Now they're just being a pest. I understand they're just doing their job, trying to make a sale. Here's the problem. We live in a "what's in it for me" world and I am as jaded as any other consumer. When they call with "are you doing any printing that we could bid on" they aren't thinking about me. They are thinking about their own sales goals and needs.
Imagine how I'd welcome their call if they opened with "one of my clients is looking for an agency. I'd like to introduce you to them," or "I saw an article on branding that I think you'd enjoy. Can I e-mail it to you?" Rather than me being frustrated that they keep calling, now I'd welcome their call because I know there's something in it for me, along with their sales pitch.
We shouldn't be cold calling. We should be relationship building. And when we care about the relationship, we aren't in it just for ourselves. Don't pick up the phone without first thinking about the person you're calling.
Demonstrate that you know their business and care about it by giving before you get. There's no quicker way to shift from nuisance to welcome caller.
So come on, let's create a list together. I'll add responses/suggestions to the end of this post. What can you offer to strengthen the relationship? Industry news? A new business lead? An article of interest?