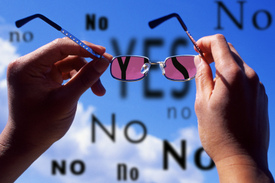 Have you heard either of these before?
The Sales Person: "It's scary! I don't want to call people I do not know."
Marketing: "It's a mystery to me! What worked and what did not work in my marketing plan?"
This is where so many business people can get stuck in launching a successful marketing and sales campaign within their company. Unfortunately, without strong sales and marketing we do not have customers and without customers, well, all we have in is more inventory and debt.
What we have to understand about sales is that people only buy when they are in pain and have the money to solve that pain. When I ask someone to buy, it's not personal. If they are in pain and have the money to solve the pain, they will buy from me (assuming I can solve that pain).
It's that simple.
Our job in sales is to find the people who have the pain and the money to solve that pain. Where this job gets complicated is that salespeople have the tendency to focus a lot of attention on prospects who either are not in great pain or don't have the money to solve the pain.
We accept a "maybe" from our prospects for answers and keep working on getting them to say "yes" even though there is no prize down that path. We keep doing this because it is more comfortable to call on people we already have had contact with and we do not want to admit to ourselves that maybe this person who we hoped would buy from us, just won't.
The second best answer from a prospect is "no". A "no" allows us to let go, bounce, take an action and find people that have the pain and money to say yes!
Marketing begins to work when the prospect says no. Marketing is critical because we actually can't sell anything to anyone, we just need to be there when people are ready to buy-period!
Marketing's job is to consistently inform our prospects (the people who have the pain) that we are here. We retain visibility in front of them so when they are ready to make the buying decision, they call us. We can be considered.
One of my mentors, Robin Creasman calls this "the maybe pile". You get a chance to compete. That's all we need to do. Most companies close 30% of the proposals they submit. When marketing gets us into the maybe pile we have more chance to close more sales.

Barry Moltz has founded and run small businesses with a great deal of success and failure for more than 15 years. His second book, "Bounce! Failure, Resiliency and the Confidence to Achieve Your Next Great Success", teaches how to gain true business confidence. Barry is a nationally recognized expert on entrepreneurship who has given over 100 speeches to audiences ranging from 20 to 20,000.

Every Friday is "grab the mic" day. Want to grab the mic and be a guest blogger on Drew's Marketing Minute? Shoot me an e-mail.