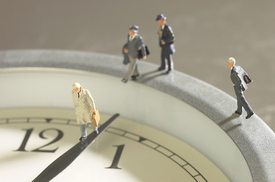 I recently outlined all of the media I recommend to keep up with the best in blogging and marketing. It was a large list. Very large. After reading that list, I sympathize if you think it would be impossible to keep up with all of the books, magazines, blogs, and podcasts.
Before I started blogging, I never would have thought that I could consume all of that information (outside my day job, no less). I'm here to tell you that it is possible and these are the secrets to create at least 15 hours in your week to do so.
No Rest For The Wicked First, wake up an hour earlier. If you're tired, go to bed earlier. It's amazing the amount of time we waste at night. Believe me, you will not waste time at 5am. (Hey, no one said this was going to be easy.)
1 hour x 5 days/week = 5 hours gained
Podcast Your Way To Work You probably commute to work – train, bus, car – doesn't matter. Why are you listening to shock-jocks or staring out the window? There are a thousand ways to connect your iPod to your car radio (and one particularly effective way to connect your iPod to your ear). Polish off some podcasts on your way to and from work.
.5-1 hour x twice/day 5 days/week = 5-10 hours gained
Idle Hands And All That You don't have to be a kid to realize that everyone poops. I don't want to get too personal, but you're just sitting there, right? I hear it's a good place to, you know, read…
Let's not even divide this by day – let's just say 1.5 hours/week gained (give or take)
Digesting Content It's likely that you eat during the day and that's just wasted time. Sure, you might need to throw in the client lunch here and there, but most of the time you're shoving down a sandwich in front of the computer like the rest of us. Grab a book or your iPod and head to the park. You'll get work done over lunch and it's better for your health.
.5-1 hour x 5 days/week = 2.5-5 hours gained
Exercise Your Mind Too How much time do you spend on the treadmill watching Chris Matthews bloviate on television? How about all of those hours watching the Yankees lose (or the Cubs win)? Don't waste this time.
.5-1 hour x 3 days/week = 1.5-3 hours gained
Add It Up Add this up and you are looking at 15.5-24.5 hours gained per week! Think of what you could do if you had 2-3 work days just to focus on your own career – not the one where you earn money for your boss, but the one where you improve your life for your family. None of this is easy, but it is possible. It's just a matter of how much you want to succeed.
Go Pro If you've mastered these steps and you are ready to go professional, follow Chris Brogan's advice. Unlike me, he actually derives a living from blogging. I know these tips work – they've been working for me for months. Feel free to leave other tips in the comments.
DJ Francis has spent his professional life in the persuasive marketing communications world. Whether it was his stint in political strategy, his foray into magazine marketing or his current gig, healthcare marketing — he has mastered the art of leading the horse to water. You can subscribe to his blog Online Marketer and check out his free white paper, Writing Content for a Web 2.0 World.

Every Friday is "grab the mic" day. Want to grab the mic and be a guest blogger on Drew's Marketing Minute? Shoot me an e-mail.