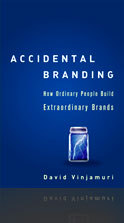 David Vinjamuri released a book this spring called Accidental Branding: How Ordinary People Build Extraordinary Brands and it's built to inspire.
The book tells the story of seven average people who developed successful brands despite their lack of formal marketing training.
Instead, they built their brand from their heart and their gut.
As a comment from the book jacket (from Gareth Kay) points out, one of the things that makes this book so interesting is that the companies profiled are not the same Nike, Apple, Virgin and Whole Foods that we read about every day.
Vinjamuri spotlights:
The Storyteller: John Peterman (J. Peterman)
The Contrarian: Craig Newmark (craigslist)
The Tinkerer: Gary Erickson (Clif Bar)
The Visionary and the Strategist: Myriam Zaoui and Eric Malka (The Art of Shaving)
The Pugilist: Gert Boyle (Columbia Sportswear)
The Perfectionist: Julie Aigner-Clark (Baby Einstein)
The Anarchist: Roxanne Quimby (Burt's Bees)
Each brand's story is very different and gives readers a rock solid reminder that anyone and everyone has what it takes to build a killer brand.
I think the stories also serve as a reminder that you cannot fake branding long-term. What made these businesses extraordinary is how authentic each business owner was in terms of defining and protecting their vision.
Bottom line — they believed in it. And eventually, so did we.
Like any good professor, Vinjamuri sums up the lessons and packages them into six rules:
Do sweat the small stuff
Pick a fight
Be your own customer
Be unnaturally persistent
Build a myth
Be faithful
This is a fun read. Vinjamuri is an excellent storyteller and each story has a lesson or three for each of us.