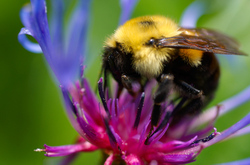 Okay….how would you (or should you) blend these elements:
Hip hop viral video
ice cream
the Colony Collapse Disorder that is plaguing the Western Bee population
Haagen-Daz is doing a little cause marketing and they have mashed up those ingredients (think figuratively for those of you who went right for the blender visual) to try to create some buzz for the honey bees.
In my post at Marketing Profs Daily Fix, I wonder about the effectiveness of the tactics and the inconsistency within the campaign. I'd love to get your take on the video and overall effort.