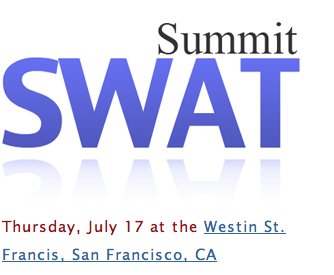 Get the inside scoop on advertising and marketing on social networks on July 17th in lovely San Francisco.
Social networks are transforming the way brands and consumers interact. Leading brands and agencies are embracing their potential — are you?
SWAT Summit looks at how agencies and brands can harness the power of social networks. This conference is for anyone who wants to be a leader in the next generation of marketing and advertising — and for the publishers, developers, and ad networks who will work with them hand in hand.
SWAT Summit is an exclusive gathering place for 200 key influencers and decision makers such as Brand Managers, Media Planners, Media Buyers, Marketing Directors, and individuals at the Director, VP, and C-Level.
Limited spots are also available for: Press, VCs, Analysts, and Academics.
Check out their speakers, or go ahead and register. Marketing Minute readers are being offered a $100 discount on the event. Use discount code: drewmm