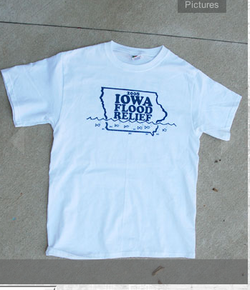 If you've been looking for a way to help Iowa and show your support, here's an option. A recent college grad and blogger Andy Drish and some friends have created t-shirts and all the proceeds (about $9 per shirt) will be given to the Red Cross' flood relief efforts.
You can check out and order the t-shirts here. (Note…the shirts are white, not blue like they are shown in the pix to the right and on the site.)
I know the Iowans who have lost their homes and businesses are grateful for everyone's prayers, support and kindness. On behalf of all of them, thanks.
Note: I am sure there are many efforts like this one. I'm comfortable sharing this one with you because I know Andy and his integrity. I know every penny will get to the Red Cross.
If you'd like to forgo the t-shirt and just make a donation, please give to the Embrace Iowa fund.
On a related note…want to see some incredible citizen journalism? Check out IowaFloods.com. This site was launched by Des Moine's Andy Brudtkuhl. He's been getting lots of kudos on the site and rightly so.