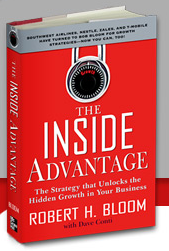 Although author Bob Bloom doesn't really toss around the word branding in his book, The Inside Advantage: The Strategy That Unlocks the Hidden Growth in Your Business, it is what he's talking about.
Bob Bloom is a strategic consultant and the former U.S. CEO of advertising mega-giant Publicis Worldwide. So the man knows a little about differentiating your products from the field. Some of his clients include T-Mobile, Zales, BMW, and L'Oreal. After 45 years in the business, Bloom has learned what it takes to grow a company.
In his book, Bloom shares all of this information and reveals how to apply his methods using a system known as The Growth Discovery Process.
The process involves determining who your core customers are, identifying the uncommon offering offering your business provides, developing a persuasive strategy, and exploiting your inside advantage.
Hmm, sounds a lot like branding, eh?
In the rest of the book Bob describes The Growth Discovery Process. It is very simple, clear and not only pertains to both large and small companies, it pertains to the individual entrepreneur. Basically it involves identifying:
Who is the core customer?
What is your uncommon offering?
How is your persuasive strategy different from others?
Own It! is the series of imaginative acts that will celebrate your uncommon offering and make it well known to your core customer.
Bob maintains that in every company there is at least one undervalued, underdeveloped or undiscovered strategic asset that can be translated into an imaginative marketing and selling platform.
The Inside Advantage is an excellent read for companies of all sizes. It's easy to digest but very thought-provoking.
Check out this video of Bob Bloom's interview by Fortune Small Business.