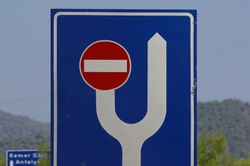 Have you ever had the experience of driving along, paying attention to something off in the horizon and next thing you know, you've driven to that spot? And it wasn't where you meant to go?
The same phenomenon can happen in your business.
My most recent post over at Small Business Branding talks about how you can keep your competition from luring you away from your own business plan/path.
it's a dangerous and all too common problem. Much like my driving example — letting your competition lure you from doing what you need to do can cost you some serious time, money and other resources.
You don't want to get caught up in the "me too" game of following your competition's lead. Come on over and jump into the discussion.