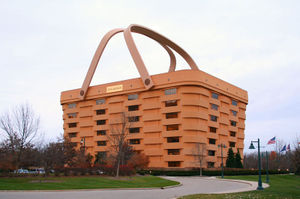 Can you imagine giving directions to this building? "You take Route 35 to King Street, hang a left and off to your right, you'll see a huge picnic basket. What? No ma'am, a picnic basket. That's right…"
Well if you work for Longaberger headquarters, that's how it would go. That is really their headquarters. Anyone want to guess what they sell?
Now most of us probably cannot erect a building in the shape of our product/service. But we can be just as recognizable in our own way.
Come on over to Brad Shorr's blog Words Sell, Inc. where I am serving up a guest post on this very topic. I'd love to have you jump into the conversation.