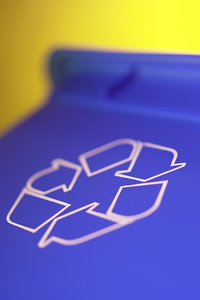 Drew's Note: As I try to do every Friday, I'm pleased to bring you a guest post. Meet another thought leader who shares her insights via the blogosphere. So without further ado…Anita Revzani. Again. Enjoy!
It is fairly easy for a business to make a declaration of environmentally-friendly practices and call itself green . But consumers are now leading the green revolution and they are quick to call businesses that do not practice what they preach.
Green or not your business should operate in the most eco-friendly manner possible. But you don't have to make drastic changes all at once. Most business have been operating a certain way for many years, hence they can make changes at a relatively slow pace. This also allows them to learn about sustainability one practice at the time.
Here are 5 easy steps you can take to start:
1. Recycle. You can pay a little extra to the waste management company handling in order to ensure everything possible is recycled, but this is a justifiable expense…especially if you are going to make the claim that you are a green business. Instead of throwing things away after the first use you may be able to reuse them in a different capacity. If you find a particularly innovative way to reuse something you may be able to share it when highlighting your green efforts.
2. Reduce resource consumption. Find ways to scale back on the resources you use to run your business by printing less and using online collaborative tools , turning off computers at the end of the day etc….. Not only will you save money, but make your business more environmentally friendly. At my company, Bizcard we use recycled paper when producing business cards and other print marketing materials.
3. Buy green. Make sure that the supplies you use for your business are as green as possible. At Bizcard, we buy our supplies from Green certified companies. By supporting each other, we become stronger and easily influence more businesses. Besides your production supplies, you can take a look at what you consume on a day-to-day basis see BuyGreen.
4. Pledge. Unless you are specific in your efforts to be an environmentally-friendly business, your customers may not be clear on what exactly makes you green. A pledge or mission statement about your green efforts spells out what steps you're taking and what you hope to accomplish with regards to making the world a better place.
Find an environmental cause that you personally believe in and that complements your business and then make regular contributions to the cause. You might even encourage your customers to contribute to the same cause. By creating an affiliation with green organizations you're conveying an image of unity among environmentally-conscious companies. This may also result in referrals from these companies, resulting in more customers.
5. Engage employees. Don't just advertise your green intentions without actually explaining them to your employees. You can ask everyone on staff to participate in your efforts to become greener and set up staff outings to do some volunteer work to benefit the environment. Upload photos or recorded videos images of employees cleaning up a local park or volunteering at a community garden on a gallery on your website. This will encourage other companies to do the same.
Every business should take several steps toward sustainability but you do not have to make changes drastic changes in the beginning. You'll be pleased to find, however, that most of the changes you make in order to make your business green will actually increase your profitability exponentially.
Anita Revzani is the co-founder and President of Bizcard, a print solutions company. Anita's past experience includes running operations for the ABC Group and helped to create $4 million dollars in annual revenue. Prior to the ABC Group she worked at American Express where she managed key national accounts including high-end brands like Gucci, Neiman Marcus ,Lord & Taylor, and America West Airlines while they were in chapter 11 bankruptcy.
Every Friday is "grab the mic" day. Want to grab the mic and be a guest blogger on Drew's Marketing Minute? Shoot me an e-mail.