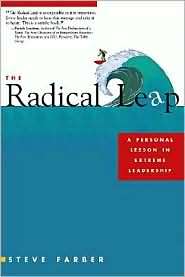 There are many stress filled days on the job. But for many people, their first day at the new gig ranks right up there. Why not take the opportunity to really seed your company's brand with the new employee from day one?
Sure, they need to fill out the paperwork and do all the normal HR stuff. But that doesn't mean you can't communicate your brand loud and clear, above the din of payroll forms!
At McLellan Marketing Group, we've created an entire system for welcoming a new employee. But my favorite part of the process is that every new employee receives a copy of Steve Farber's book Radical Leap – with a personal note from me inside.
The book is about Extreme Leadership – a leadership fable that celebrates love, energy and being audacious in the workplace. It is about how we try to live at MMG.
I can't think of a better way to accent that first day and to communicate – this is a different sort of place. We're glad you're going to be a part of it.
How about you? What on boarding ritual could you weave into your new employee's experience? What message would you want to send?