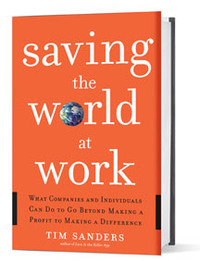 Want to significantly impact employee satisfaction? According to Tim Sanders, one key factor is whether or not your employees believe they can change the world through their work. And they want to do it with your help and support.
Tim, former Chief Solutions Officer for Yahoo! thinks its not only possible but necessary. In his new book, Saving the World at Work he explains how. This book is filled with memorable anecdotes and tangible steps for taking action.
This is a business book — don't be fooled by the mission or the title. Within its pages, you'll learn how to ignite your employees' passions, earn their loyalty and turn them into your biggest evangelists.
Tim also has a website devoted to this topic and an excellent blog. If you recognize his name, you might have read his earlier Love is the Killer App. He truly believes that any individual can be an agent of change in the workplace and any workplace can be an agent of change in the world.
Not a bad belief to hang onto.
You can also read Tim's interview in US News and World Report.