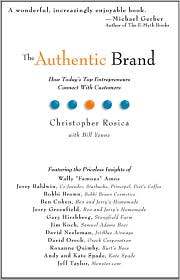 I just finished the book The Authentic Brand written by Christopher Rosica, CEO of Rosica Strategic Public Relations. It's a cotton candy sort of read. Lots of good stories and some sticky fun.
Rosica did some in-depth interviews with the business leaders listed below. He mixes their comments with his own take on how these entrepreneurs developed authentic brands.
Wally Amos of Famous Amos Cookies
Jerry Baldwin of Starbucks
Bobbi Brown of Bobbi Brown Cosmetics
Ben Cohen & Jerry Greenfield of Ben and Jerry's
Gary Hirshberg of Stonyfield Farm
Jim Kock of Samuel Adams Beer
David Neeleman of JetBlue Airways
David Oreck of Oreck Corporation
Roxanne Quimby of Burt's Bees
Andy and Kate Spade of Kate Spade
Jeff Taylor of Monster.com
The book tackles topics like marketing strategies, leadership traits, and customer service practices from each of the entrepreneurs' perspectives.
The aspect of the book that I appreciated the most, as a business owner, is that in many of the interviews, the big name entrepreneurs talk as much about their failings as they do their successes. I've always thought there was more to be learned from the mistakes than the triumphs.
I think you'll find yourself quoting some of the stories and hopefully apply some of the lessons learned.