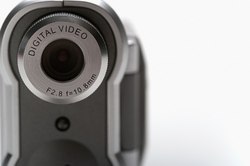 Drew's Note:  As I try to do every Friday, I'm pleased to bring you a guest post.  Meet another  thought leader who shares his insights via the blogosphere. So without further ado…Benjamin Wayne.  Again. Enjoy!
The YouTube craze doesn't just apply to consumers anymore. Video is rapidly becoming an essential feature on Web sites. Web video is particularly important for small and mid-sized businesses as they represent the largest percentage of online businesses in the US.
But, before a small or mid-size business can successfully dive into the deep end of the video pool, there are a few dos and don'ts to consider:
DO get your message out there
Just creating a video isn't enough. You want people to find your videos, and through your videos, your site. Submitting videos to search engines is one way to help prospective viewers find you. A simple email button on your video player, or better yet, easy functionality that lets your loyal visitors re-post your videos on their blogs, Facebook page, or family website helps spread your message and your brand, attracting audiences and buyers to whom you would never otherwise get access.
DON'T only rely on YouTube
By using YouTube, you could be driving traffic away from your site if you don't embed the video's code. What's more, the quality of free players can be somewhat poor, and they will not submit your video to search engines, which helps potential buyers find your goods and services.
DO showcase the quality of your brand
Fuzzy, poor-quality video communicates a negative user experience and reflects poorly on your brand. To avoid this, find a video service provider who can ensure razor-sharp video and a player that uniquely reflects your brand. It's cheaper than you think and the results make all the difference.
DON'T shoot video like an amateur
Almost every digital camera today has an option that allows the user to shoot short videos. Remember to keep the camera steady, shoot in locations with lots of available light, and to move slowly when panning from side to side. Avoid zooming, and instead make sure to fill the frame with the image.
DO turn your visitors into contributors
Visitors to your site are passionate about your subject. Let them help you sell your online experience. A simple uploader can allow any visitor to contribute videos to your site. Those videos can become a gallery that creates more immersive experience and more page views, or become video testimonials that drive conversion and revenue.
Travelblog.org is one example of this DO in action. Travelblog.org has given its members the ability to easily upload daily videos of their travels abroad, sharing their experiences with other travel aficionados in near real-time. This service has been enthusiastically received by travelblog's members, resulting in increased customer loyalty and satisfaction.
DON'T hide your video
As with any content, make sure your video is clearly labeled and placed on your home page, as this will tend to attract a lot of attention from your site visitors. A video gallery page gives users the opportunity to browse through multiple videos at a time, and some vendors can help you with sharing functionality that allows buyers to email videos to one another.
DO take as few steps as possible when implementing a solution
White-label video solutions have come a long way today in aiding the business owner in implementing a complete package. Take the time to research video service providers to ensure that they have everything it takes to roll out a robust and easy to use solution; uploading, encoding, storage, and high quality playback in a plug and play manner.
DON'T bog your small engineering team down
Your engineer's priority queue is often overwhelming. Don't give them yet another project that will cannibalize your project roadmap with a high-touch solution. A straightforward solution that a junior-level web master can implement in days rather than months will keep your engineers focused on other projects.
Benjamin Wayne is the President and CEO of Fliqz.  Prior to Fliqz, Benjamin was President & CEO of Collabrys, a leading provider of outsourced customer acquisition and retention solutions for Global 1000 corporations, including Bank of America, Capital One, Visa, Estee Lauder, Clorox, Wyeth Pharmaceuticals, Target, New York Life Insurance, and Prudential. Collabrys was acquired by E-Centives in 2004.
Every Friday is "grab the mic" day.  Want to grab the mic and be a guest blogger on Drew's Marketing Minute?  Shoot me an e-mail.