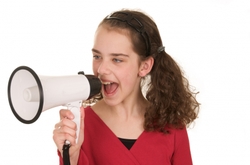 While I'm on vacation, I've asked some very smart bloggers whom I am fortunate to consider my friends, to share some insights with you. Enjoy their brilliance because before you know it, you'll be stuck with me again! Next up, Steve Woodruff.
It's a major challenge for any small business to get noticed. How do you compete with the marketing budgets of larger, established players in your field? And how do you do it without breaking the bank, while still projecting a quality image?
Happily, we live in a time when there are many tools available for gaining exposure. Let's take a look at a handful of ways you can get noticed that rely on "cheap creativity," rather than extravagant spending.
1. Share your expertise.
Surely you have something to offer to your target audience – unique perspectives, industry knowledge, a network of connections, learning resources. You become a value resource (and a presumed expert) when you share.
The tools now available for systematic sharing blogs, e-newsletters, social media platforms) are ridiculously inexpensive – oftentimes free – so the only barrier to entry is your commitment of time and energy.
My consulting business is founded on an industry blog and newsletter, and a determination to create new connections. No extraordinary technical or artistic talent is needed to establish yourself as a helpful expert. But in the long haul, nothing is more effective!
2. Create a memorable "signature."
Incorporate something in the way that you deal with people that makes you outstandingly memorable. In a past job, one of my co-workers would receive correspondence from a business person who always included a stick of gum in each letter. Memorable.
I remember one conference speaker (male) who came out wearing red shoes. Memorable.
I have a caricature that is included in my e-mail signature – the best $50 I ever spent starting up my business. Memorable. There is a lot of noise out there, and you can find a way to rise above it with something simple and creative.
3. Create a unique and enduring "giveaway."
I've seen a thousand forgettable giveaways from many years of going to conferences and doing business. But the best ones are outstandingly unique, or they last a long time.
Candy bars and pens have a short-shelf life. Unique mugs, branded ear buds, classy business card holders, or other such items stand a better chance of keeping your identity and message in front of prospects.
I just came back from an exhibit area where a company had hired folks to roll cigars right on the booth – and was giving them away with lighters and cigar cutters! Bingo!
4. Network.
Be part of professional organizations, go to local meetings, volunteer your time. Be involved, and help get your clients involved.
Consider professional networking platforms, such as LinkedIn. Your best marketing is word-of-mouth recommendations from those who like you and your company, and as you add value to others by networking and sharing resources, they will do the same for you.
Yes, it takes time and effort – but you will have no more effective marketing strategy than building a supportive group of cheerleaders.
5. Finally, and most importantly, have a simple message.
This can't be underscored enough. You will not be remembered if you blend into the background of a hundred other companies saying the same thing. Work hard with a branding expert to refine your message and your identity, and find a way to occupy your niche in a unique way.
Don't try to be all things to all people. Seek to be the best thing for a small number of people. Succeed at that, then grow outward as you are able.
These simple steps can help you jump-start a business with very little (green) capital expenditure. And if you want others, here are five steps Drew outlined earlier this year. Do these 10 things and you'll be well on your way to business success!
Drew's Note: Steve Woodruff is one of those guys who is constantly a surprise. He's an entrepreneur and consultant, focusing on helping his pharmaceutical clients develop optimal training and communications programs (His pharma blog). But then he's also the guy posting some hysterical work on his StickyFigure blog as he probes social media. A man of mystery, of many sons and of wide feet. That is my friend, Steve.