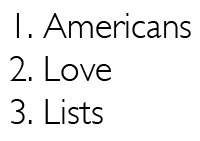 While I'm on vacation, I've asked some very smart bloggers whom I am fortunate to consider my friends, to share some insights with you. Enjoy their brilliance because before you know it, you'll be stuck with me again! First up, Todd And.
A wise man on YouTube once said Americans love lists. According to that man…
"A lot of people on the net are saying they're sick of lists. They say lists are a cheap 'link bait tactic.' Oh you don't like lists, huh? How about these lists:
1. The Civil Rights Act
2. The Bill of Rights
3. The Constitution
"You know who else didn't like lists? Joseph Stalin. We don't need less lists. We need more lists. We need lists of lists. We need lists within lists. We lists of lists of lists within lists of lists with an index, which is a list. Lists are the zero emission, renewable energy source that fuels the USA."
So, in support of lists, here is my List of Lists (That Smart Marketing Pros Should Bookmark):
1. Top 100 Tools for Learning 2008
2. 50 Websites You'll Wonder How You Lived Without
3. Top 10 Social Media Tools for PR Pros and Journalists
4. 10 Successful Logo Redesigns
5. 35+ Examples of Corporate Social Media in Action
6. 50 of the Best Websites for Writers
7. 13 Reasons Why Social Media Marketing is Worth Your Time
8. 10 Tactics That Could Save Your Online Reputation
10. 11 Habits of the Worst Boss I Ever Had
11. 59 Things You Should Be Doing But Probably Aren't
12. Top 10 Business Applications for Facebook
Drew's Note: Todd Andrlik should be on a list by himself! This smart marketer painstakingly created the Power 150 list long before AdAge heard about it and invited him to share it with their readers. He's a community advocate and also a collector of rare and historic newspapers.
Todd blogs at ToddAnd.com and cheers for the mighty Cubs. But I love him any way!