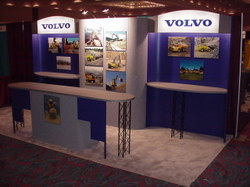 Drew's Note: As I try to do every Friday, I'm pleased to bring you a guest post. Meet another thought leader who shares her insights via the blogosphere. So without further ado…Cece Lee. Again. Enjoy!
As companies prepare to reduce travel and marketing budgets, marketers will be seeking ways to get the most out of the physical events that they're committed to in 2009. Physical events, such as product demonstrations, summits, conferences and trade shows, are an integral part of one's lead generation efforts.
When you prepare to attend a conference or trade show in 2009, the goal is no longer to set-up your booth at a conference. It's how do you create a PR strategy to fully take advantage of your time at that event? Public relations is a cost-effective way to promote your participation at any conference or trade show. When married with your in-person presence, you can make the most of your participation in 2009.
Here are three ways to maximize your participation:
Research speaking opportunities at the conference
Speaking at a conference is a great way to position yourself as a thought leader in your industry. While securing your exhibit space or sponsorship, ask about speaking opportunities – either as part of your participation or how to submit a topic for consideration.
In the case the conference has a speaker proposal process (a call for speakers or proposals), the key to securing a speaking opportunity depends on relevancy, timeliness and educational value of your proposal. Research key issues within your industry or consider inviting a customer to present with you at the conference. Also highlight the top three or five action items that attendees will learn from hearing your presentation.
After submitting the proposal for consideration, continue following up with the organizer to inquire about the status and get feedback about your proposal. Through these conversations, you may be able to amend your proposal accordingly or uncover additional opportunities that you were previously unaware of.
Unfortunately, organizers receive about 10 proposals for each speaking opportunity. While you proposal may not be accepted initially, don't assume that concludes your efforts with the organizer.
Due to family emergencies, illness or urgent business meetings, speakers do cancel occasionally. Check in with the organizer about 1 month before the conference to inquire about cancellations. Or due to your conversations with the organizer, you may get a call the day before the conference to step in for a speaker!
Write and distribute a press release
An event based press release highlights the what, when and where of your participation. By posting the release on a free or paid newswire, you increase your online presence as a newswire can distribute your release to an average of 12 – 20 online websites.
Due to the distribution of the release, you also have to consider the search engine optimization impact of the release. Evaluate which keywords drive traffic to your website or are frequently search terms for your industry.
To increase the relevancy of your release in search engine searches, incorporate these 5-10 keywords in your press release. Furthermore, hyperlink key phrases to related pages on your website. Like keyword relevancy, search engines also look at the number of external links pointing to your website.
Besides posting the release on your website, the press release is also a great opportunity to connect with your customers or prospects. While they may not be able to attend in person, this provides an excellent way to stay top of mind when they are ready to purchase your solutions and services.
Connect with media and bloggers
While you're inquiring about speaking opportunities, ask about previous or anticipated media attendees at the event. Since these reporters (I include bloggers as reporters) are taking time to attend the event, you know that they are interested in the event's content.
In case the organizer doesn't have a media list, then reach out to local media about the upcoming event or do a quick search on Alltop.com, a website that lists the top blogs on specific topics, to find a short list of bloggers writing on your industry.
Before contacting each reporter directly, first research what she has written on in the past. Does she look at products only or does she write trend pieces? She may have also included pointers on how to contact her such as likes and dislikes. By arming yourself with this information, you can send a targeted email introducing your company, why she would be interested in your company and invite her to meet at the conference.
While I don't suggest attaching any press releases or photos, I do recommend including a link to a relevant press release or offer to provide photos to enhance the article visually.
Conclusion
I don't believe that physical events will disappear as marketers reevaluate their budgets. Rather, it's how can you do more with less. Public relations is an inexpensive way for you to get the most out of your event participation.
Cece Lee is the author of PR Meets Marketing blog and senior marketing communications manager with ON24. While not writing posts for her blog or working, Cece enjoy taking care of the newest addition to the family – Snowy, a white goffin. Note: The thoughts expressed in this posting are not representative of ON24 and are personal views of the author.
Every Friday is "grab the mic" day. Want to grab the mic and be a guest blogger on Drew's Marketing Minute? Shoot me an e-mail.