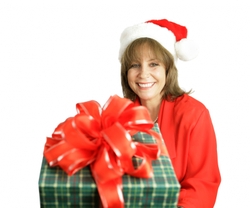 Drew's Note: As I try to do every Friday, I'm pleased to bring you a guest post. Meet another thought leader who shares his insights via the blogosphere. So without further ado…Saul Colt. Again. Enjoy!
The holidays will be here before we know it, which means it is time to show your appreciation for friends, family, and clients. During a down economy, it is even more important to keep clients happy and spread holiday joy. FreshBooks suggests the following 10 tips to help your small business survive and enjoy the holidays.
1. Bill Clients Early:
You can't get paid till you send an invoice and at the end of the year people get caught up in all sorts of other activities…so send your invoices as soon as the work is done so it can be posted BEFORE the folks who sign the checks do something silly at the holiday party. Sure this is good advice for all year around but even more important at the end of the year..
2. Make Billing So Simple That an Elf Could Do it:
If you make bill paying difficult, check that, if you make anything difficult people will lose interest and put it aside and possibly forget about it. Think for a moment…when was the last time you made pancakes or macaroni and cheese from scratch and not a mix? Online invoicing makes sending your invoices like opening a box of pancake mix…simple, quick and satisfying!
3. Add a Holiday Greeting Message:
Show your customers that you are like Flava Flav, you know what time it is…OK maybe Flava Flav is a bad example but show your customers that you appreciate them. Send them a personal message on your invoices. It can be holiday related or just something to say "Thanks for a great year". Whatever you do decide to say just make sure you don't miss this opportunity to do something nice for the people who support you.
4. Take Advantage of the Moment:
Year end time usually means some extra expenses. With gifts and other incidentals that creep up it is always good to have some extra money to help out. Best way to do this is to grab people (not literally) during the planning stages of a project…you know when most people are excited and tend to be more flexible. Use this opportunity to request a partial payment.
5. Use Online Recurring Invoices:
Holidays are supposed to me about spending time with family, doing things like watching "A Christmas Story." This would obviously take you away from your computer and your ability to send an invoice but you still need to get paid . By setting up an automated recurring billing in a service like FreshBooks you can "set it and forget it". Leaving you more time to do what you really want to be doing and still have the peace of mind that your invoices will still be delivered.
6. Automatic Late Payment Reminders:
Santa Claus (or whoever you think brings you presents) isn't the only one who will be checking his list…checking it twice just to find out who is naughty or nice…Yep, you need to check your own lists to see who owes you money but calling at holiday time can make you look Grinch-like and possibly damage a good relationship; so set up an automated payment reminder .
7. Keep Employee Morale Up:
When I was a teenager my Dad once told me that money doesn't buy happiness…that same day I bought a pretty girl lunch and she gave me a kiss proving him wrong. That has nothing to do with this point, I just figured I'd use this platform to tell that story. Oh wait it does fit…see I did something nice for that pretty girl and she rewarded me with something. Show your employees that you appreciate them and they may (figuratively) give you a kiss…or just be a little happier and work a little more efficiently and focused. This doesn't mean throw a big splashy party. If all you can swing is something small then do something small but done nicely. Why not close for an afternoon and go see a movie together or have an impromptu company picnic. It's the little things make a big difference.
8. Your Customers are Your Best Friends:
You can never have too many good friends because when times get tough you tend to stick with your friends and support them. Treat customers as you would treat your best friends and be genuine with them always show your appreciation. Small gestures such as sending hand-written thank you notes will not be forgotten and will show you wouldn't be as happy without these friends being part of your business.
9. Nothing Wrong with Asking for Help:
Use the good feeling that the holidays bring to ask your customers to tell their friends how happy they are with your product or service. One of the best ways to acquire new business is to simply ask for it so go take a holiday leap of faith and ask for help from the people who know and like you.
10. Review Company Year-End Spending:
Do you really need those Chinchilla couches? Ok bad example…of course you do but I bet there are other things you could do without; so stop and take a look at your spending. Make sure you have a deep understanding of what your fixed costs are (office lease, employee salary and other overhead costs) and make sure you are making enough to cover that first before you go ahead and spend a bunch of money on some super awesome beads to hang from every doorway and a new bear skin rug…there is probably nothing wrong with the one you have now. This should be done every six months to maximize growth and to remain focused. Further keeping up with current trends will help your business better evaluate what needs to be spent on and what would be a waste of funds.
Saul Colt Saul likes to build stuff, but since he isn't that handy he chooses to design and execute great marketing and word of mouth programs. Before joining FreshBooks as its Head of Magic he did a slew of interesting and notable things that would absolutely impress you but he is the kind of guy that throws every inch of himself into what he is currently doing so you won't see him talking about the past in this bio. Saul is an accomplished speaker and has been doing so since 13 months old. When Saul is not working he can be found watching TV or playing spin the bottle.
Every Friday is "grab the mic" day. Want to grab the mic and be a guest blogger on Drew's Marketing Minute? Shoot me an e-mail.