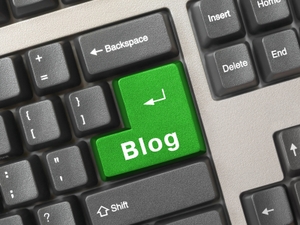 Just about every day at McLellan Marketing Group, we're working with clients who want to explore social media and what it can do for their company.   And almost all of them think they want to blog.
Not so fast.
I think one of the most irresponsible things we (MMG) can do, is simply give them the keys to a blog and set them off.  Because many of them will end up in a ditch.  Not because they're not competent and capable.  But because not every one or every company should blog.
Before we'll build them a blog and teach them how to engage it….we review the 5 musts of business blogging and walk them through each step.  If they can get through all five, they're probably a good candidate to blog.
You must have a clear purpose.
The why sets the tone for everything.  Who are you going to talk to?  What types of things will you write about?  Who should be writing?  How will you decide if it's working or not?
Way too many companies launch a blog simply because it's the cool, new things to do.  Really bad idea.  Don't do a thing until you have a vision for your blog.
Listen at least twice as much as you write.
Good bloggers are good blog readers.  They read inside their own category and they read blogs that have little to do with their core competency.  They read smart writers.  They reference smart writers and they create a network of smart bloggers, inside and outside of their profession.
Jump into conversations and add value.
Most beginning bloggers  believe that all they need to do is write their blog posts and voila, a following will show up.  Rarely.
You earn your stripes and the respect of other bloggers, readers and the like at other people's blogs long before you can earn it at your own blog.  A good blogger is not only a frequent reader…but a frequent commenter.
And "great post!" doesn't count.  When you comment — add to the conversation.  Do that consistently and you will entice people to your own blog.  Skip this step and your blog becomes a dusty monologue.
Write and then write some more.
The tech blogs seem to have a new post every 5.7 seconds.  For the average business blog, that would be insane.  But 3 to 5 on topic, on target posts a week is what it's going to take create the stickiness that will attract and keep readers satisfied.
We're not talking thesis papers here.  Blog posts should focus on one teachable message or thought.  Short and sweet (shoot for 300 words or less) wins the day most of the time.
Be in it for the long haul.
Business blogging is not a quick fix. It's relationship-based, whether that's your relationship with your readers, with other bloggers, or with the media — it's all about connecting.
If you're looking for an insta-success, try something else.  Even if you do everything just right, it's going to take some time and discipline to create a community.
If you're not going to give it a year, don't give it a start.
Whew…if that hasn't scared you off, then you're probably a pretty good candidate for a business blog.  Let us know if we can help.
And, a hat tip to my blog coach Mike Sansone.  I learned all of this stuff at his knee a few years ago and keep on learning from him today.