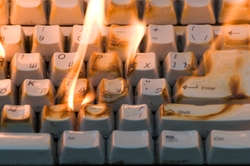 Drew's Note: As I try to do every Friday, I'm pleased to bring you a guest post. Meet another thought leader who shares his insights via the blogosphere. So without further ado…Sam Carpenter. Again. Enjoy!
Most people want two things: peace and prosperity. I was – and still am – no different.
Eight years ago, I was working ridiculously long hours for meager pay, crumbling under stress, and had zero time for myself or my family. The President and CEO of Centratel, a struggling telephone answering service business that specializes in emergency message relay, I put in 80 to 100-hour workweeks for 15 years, simply trying to keep my business and personal life afloat.
It was a week-to-week epic, making payroll, keeping staff and clients happy, and covering the bills for me and my children. I had no close personal friends or romantic relationships. After a decade and a half of this torment, my body was a wreck from the stress, and my doctor – convinced I was depressed – prescribed anti-depressants and then stimulants.
In my book Work the System: The Simple Mechanics of Working Less and Making More, I describe my step-by-step transformation to now working 2 hours a week, instead of 80, and how, in a steeply declining telephone answering service industry, Centratel has blossomed, with more than 900 clients across the United States.
Follow these five integral steps to "working less and making more" and your operation will become enormously more efficient. At the same time, watch your personal life become more relaxed and rewarding for yourself and the people you care about.
Understand there is a universal propensity for order and efficiency. Despite the contentions of mass media, 99.9 percent of everything works just fine. Consider the systems of your life: The car you drive, the TV you watch, and the miraculous body that carries you around. You just have to "climb on board" and work to enhance the quality of the systems of your life that are not exactly the way you want them to be.

Shift your mechanical perspective of the world's workings. Take a position "outside and slightly above" your work and your life. Understand that by perfecting a primary system's sub-systems, the primary system will in turn be perfected.
End the fire-killing. Instead of repairing problems as they arise, dig one layer deeper, identify the inefficiencies, fix the dysfunctional systems that cause the inefficiencies, and stop problems from re-occurring.
Create simple yet comprehensive documentation. It has to happen. Boring, but true: the existence of documented protocols is the single greatest difference between large successful businesses and small struggling businesses.
Hire people who "get it." You must surround yourself with people who agree with your system's philosophy and methodology. If your employees aren't on the same page, you won't get the results you want.
So, if your day is too busy fixing recurring problems, take a step out of the fire-killing routine and get down to the heart of what is producing the recurring problems. Could it be that within your operation, processes are not being maintained and upgraded, tasks are not being delegated or automated, and attention isn't being paid to the documentation and control of the systems that create the results? If so, then go to work and tweak those faulty systems into perfection.
Sam Carpenter has been featured by dozens of national media, including NPR, ESPN radio, The Wall Street Journal radio, Startup Nation, KTLA Morning News (Los Angeles), and Small Business Television. President and CEO of Centratel, the number one telephone answering service in the United States, he has a background in engineering, publishing, and journalism. Visit www.workthesystem.com to purchase your copy of his book, Work The System: The Simple Mechanics of Working Less and Making More, and to register for one of his two-day Work The System Boot Camps.
Every Friday is "grab the mic" day. Want to grab the mic and be a guest blogger on Drew's Marketing Minute? Shoot me an e-mail.