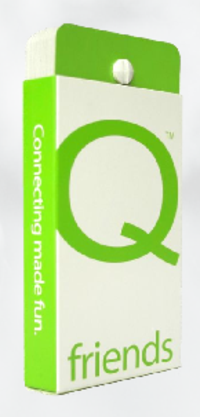 I don't know about you, but I'm a bit freaked out that it's the gift giving season again. But…I'm bucking it up and spending much of the weekend shopping. You?
I can help you cross one thing off your list. My good friend Mitch Matthews and his wife Mel created a game a few years ago that is really gaining national traction.
Much like the iPod, this game is the perfect blend of form and function.
Cool looking and a blast to play….Do You Q Friends and Do You Q Dates (two different versions with completely different questions) are perfect for family gatherings, work parties (at MMG, we play it via e-mail at work) or just about anywhere.
It's a thought-provoking, laughter ensuing game that helps you connect. It really is the perfect stocking stuffer. It's also an excellent way to open staff meetings, freak out an interviewee or toss in your briefcase as you board a plane.
Now, you can buy one online or you can win one of five FREE games that I have to give away. To be entered into the drawing…just leave a comment below. That's it.
I'll randomly pick five numbers and voila, we'll have our winners.
Because I want to get these mailed to you before the end of the holiday season….we'll announce winners on Thursday morning.
Update: You bet — we'll mail it to anywhere on the globe. So don't think you're not eligible if you're not in the States!
Update #2: The contest is closed. I asked my daughter to pick 5 random numbers and as a result the winners are: Justin Brady, Jill Konrath, Ed Moriarty, Karin and Monica. I will be in touch to find out which version of the game you'd like.