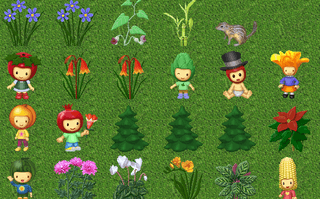 If you've been on Facebook for any length of time, you know that causes run rampant there.  You can join non-profit pages, you can play games that benefit non-profits, you can declare your allegiance to a cause.  You name it, you can probably do it.
Most non-profits, if they're there at all, are stumbling around, trying to figure out how to best use the space.  But some have really got it figured out.
Over 6 million Facebook users send each other virtual plants/flowers for their (lil) green patch.  And they're told that every time they do, they're saving bits of the Rain Forest.   But what does that really mean?
How about over $109,000?
That's how much The Nature Conservancy has earned from people passing pansies.  (Say that 5 times fast!).  And they didn't even develop the actual application.
Toby Bloomberg has an eye-opening interview with the Digital Membership Manager of The Nature Conservancy that should be must reading for non-profits looking for a fresh fund-raising idea.
If you're a non-profit or involved with helping one — how are you using Facebook to date?  How COULD you be using it?