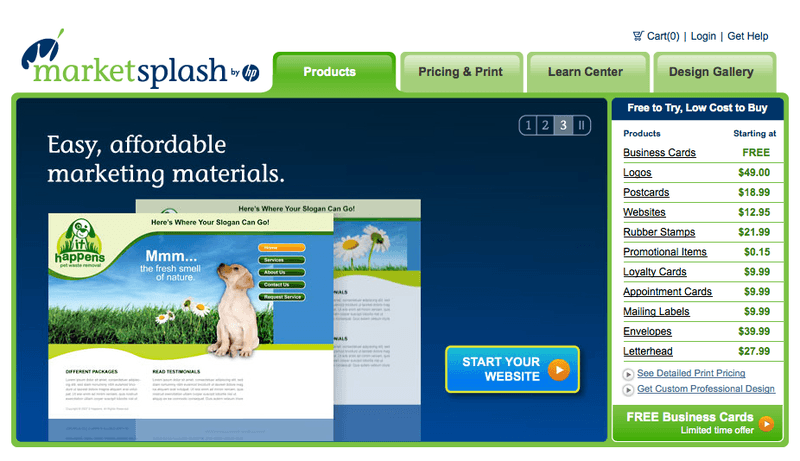 One of the biggest challenges of a fledging small business is producing professional grade stationery, business cards and marketing materials.
HP believes they've created a viable solution at MarketSplash — a web-based shop that allows you to design and customize DIY templates for your business basics like stationery, business cards, static website, postcards and even promotional items like polos and mugs.
The templates give you several options — uploading your logo and beginning your design from there, or choosing one of their templated logos, or choosing industry-based templates that don't require a logo at all.
You can also opt to have them custom design a logo or stationery package for you, if you'd prefer.
The offerings and designs are vastly superior to the all too often heard "I designed it myself on Publisher" option that many start ups and small businesses rely upon.   Make no mistake, this isn't like hiring an agency to truly help you discover your brand promise and design your identity pieces to fit that promise.  But for many organizations, that's just not a viable choice.
So, MarketSplash is a happy middle ground for those companies who want to project a very professional, consistent image but can't afford an agency.
I spent about an hour getting a guided tour of MarketSplash last week and found it incredibly easy to navigate and use.  I was able to select a business card template, change the font, color and enter my own contact information in about 10 minutes. 
I have to admit, I was impressed by quite a few of the templates and the flexibility of the design modules.   But what I found most interesting were the delivery options.  After designing my cards (or whatever I needed), I could:
Complete the order online (choosing paper, finishes etc) and have the printed materials delivered to me via the post office
Have the order sent to my local Staples and pick up the printed materials in 45 minutes
Download the PDF files and print them off on my office or home printer
That gives me hope that HP truly does understand some of the challenges and unique needs of the small business owner. 
For a limited time, HP is offering 100 free business cards (including shipping) to new customers. 
Go check out the site and let me know what you think.   And what else would you like to be able to buy right from the site?
Note:  I'm going to order some items from the site and will let you know about the quality/experience once the items arrive.