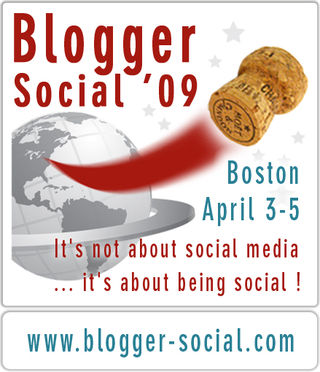 Hopefully by now you've heard that Blogger Social is taking us to the fantastic city of Boston this April! 
We've got a weekend packed with fun, laughter and smart bloggers!  We'll eat and drink our way through the historic city and our hostess is none other than Lori Magno, of Blogger Social '08 fame!
You can get all the scoop and register today by going to Blogger-Social.com.
To keep the party intimate and give you a chance to actually spend plenty of time with all of the attendees, we're limiting registration to 100 people. 
So don't dilly dally!
We'll have a casual night on Friday, a Boston-centric, you can't believe I am actually here outing on Saturday afternoon and the very swank soiree on Saturday night.
The price is exactly what it was last year and we've got some excellent hotel deals lined up for you.  You heard all about it last year and you were bummed that you weren't there.  Don't let that happen again this year!
CK, Lori and I are looking forward to getting social with you!