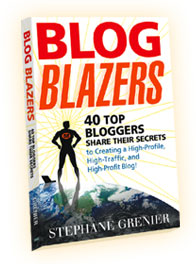 That was the premise behind Stephane Grenier's book, Blog Blazers.  Grenier created a list of questions ranging from what makes a blog successful to you all the way to what are the most common pitfalls new bloggers fall into and several in between.
Each blogger's chapter ranges about 4-5 pages, depending on how verbose they were.  I asked Stephane what his criteria was for the top 40 and his response was "I first tried to vary it as much as possible, but obviously some types of bloggers are more common than others. That and I had certain minimum criterias I wanted everyone to meet. Than I also had to coordinate with who was interested and who had the time. It was a pretty big job."
After reading the book, I was left with a few impressions.
Seth Godin is a master at dodging questions when he doesn't want to be pinned down or doesn't believe in the core of the question.
There's no magic or even consistent answer to any of the questions — which reminds us that blogging, even business blogging, is about being genuinely you.  There's no one size fits all answers.  You need to blog from your organization's heart.
Everyone seems to agree that ProBlogger is where newbies should start learning about blogging.
Beyond that…the answers are very interesting to read but if you are looking for clear-cut direction, you won't find it.  Lots of opinions but no definitive answers.
Probably as it should be.  One blogger's must is another's never!
If nothing else, you'll get a good insight into some very successful bloggers and find a new read or two.