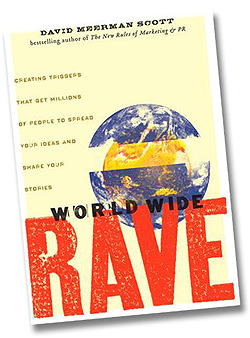 A world wide rave is when people around the world are talking about you, your company, and your products. It's when communities eagerly link to your stuff on the Web. It's when online buzz drives buyers to your virtual doorstep. It's when tons of fans visit your Web site and your blog because they genuinely want to be there. 
At least that's what David Meerman Scott is telling us in his new book, World Wide Rave.
This is a fun, smart read.  It will scare you in some places, like when he hints that you should quit if your bosses won't let you create a rave — but the idea generating stories are worth the fright.
Want to create a rave?  Better follow David's rules:
Rules of the Rave:
Nobody cares about your products (except you).
No coercion required.
Lose control.
Put down roots.
Point the world to your (virtual) doorstep.
You can trigger a World Wide Rave: Just create something valuable that people want to share and make it easy for them to do so.
In World Wide Rave, David Meerman Scott, author of the award-winning hit book The New Rules of Marketing and PR, gives you a ton of examples from all facets of life — big companies, start ups, non-profits and individuals — all who started a rave and shared their message with the world.
And….I have 3 copies to give away by random drawing.  All you have to do is leave a comment and tell us…if you could create a rave about anything (work or not) what would it be about?
Mine?  The importance of being an involved, connected dad.
Come on…leave a comment and you might win this Rave playbook!
Update:  Congrats to Scott Howard, Rachel and Love that Rebecca — our 3 book winners!