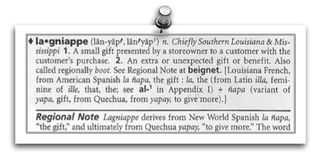 Drew's Note:  As I try to do every Friday, I'm pleased to bring you a guest post.  Meet another  thought leader who shares his insights via the blogosphere. So without further ado…Stan Phelps.  Again. Enjoy!
The concept of primacy and recency simply defined is: People have a greater recall of the first thing and the last thing they experience.  Advertisers are well aware of this principle as it relates to television.
The first and last three seconds of a thirty second spot are the most critical.  The first three seconds are all about grabbing your attention and the last three seconds are about reinforcing your message or brand. 
In general marketing, primacy is important because you 'never get a second chance to make a first impression', but recency is the last thing your customer or client remembers before they walk out the door or hang up the phone.   
Challenge:  How do you leave a great impression after the sale is made or the contract is signed?
There is great word that originated in Louisiana called 'lagniappe' (pronounced lan-yap).  The creole word literally translated means 'the gift.''  It refers to a small unexpected extra gift or benefit presented by a store owner to a customer at the time of purchase. The people of Louisiana have embraced the term and have broadened the definition to include any time a little something extra is given.  [Click here to read Mark Twain's account of his first introduction to lagniappe from Life on the Mississippi]
How do you integrate the concept of 'lagniappe' into your marketing?
Here are the four main ingredients:
Unexpected

– the extra benefit or gift should be a surprise.  It is something thrown in for good measure.  Think 'surprise and delight'.

Relevant

– the item or benefit should be of value to the recipient.  Make sure that the item or service is a true benefit.  It shouldn't be a one size fits all proposition.

Unique

– if it's a small token or gift, try to select something that's rare, hard to find or unique to your business.  

Authentic

– many times it comes down to the gesture.  It becomes more about 'how' it is given, as opposed to 'what' is given. The small gift or extra communicates that you care about your client and you appreciate their patronage.
In today's difficult business landscape the ability to provide 'added value' will set you apart from your competitors.  Are you always striving to deliver above and beyond?  What is that 'little something extra'? 
Where is the lagniappe in your marketing?
Stan Phelps is Executive Vice President at Synergy Events.  Synergy is an award winning experiential marketing agency specializing in mobile marketing tours, pr events / launches and sponsorship activation. You can also check out his blog 9 INCH MARKETING which discusses how to bridge the gap between traditional and social media by taking a sensory approach to integrated marketing. [FACT: The average distance between the brain and the heart is 9 inches]
Every Friday is "grab the mic" day.  Want to grab the mic and be a guest blogger on Drew's Marketing Minute?  Shoot me an e-mail.