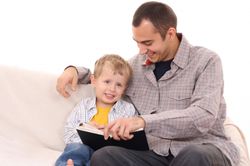 Stories are a part of our lives from the time we're babies. 
Dad read stories to us at bed time. 
Mom tells us the story of the little boy who bumped his head because he didn't put on his seat belt. 
Grannie's stories about growing up and getting her first TV set teaches us about innovation.
Papa regals us with his tale of how his stage kiss brought down the house in high school connects our generational passion for theater.
Then, we get to school.  In just about every class we are taught via stories.  Whether it's a history lesson wrapped up in the Gold Rush, a humanities study woven into haunting Holocaust stories, or a sociology primer on how people around the globe practice their religion — school is filled with stories.
When we date…what do we do to learn about the other person?  Exactly….we tell stories.  Whether they're sad, funny, heartwarming or ego-boosting — human beings teach and learn via stories.
Recognizing all of that, doesn't it make sense that we would use stories in our marketing?  The truth is…the tactic is already all around us.  Jared is thin, thanks to Subway.  eHarmony couples want you to be as happy as they are,and average Joe John Erlendson wants you to know that Lipitor is keeping his heart healthy.
Dandy…you're sold.  You now believe that stories can help you strengthen your brand, sell more and reinforce your customers' buying decision.
Now what?
Creating stories to use in your marketing, especially if you are going to use real customers, is no small task.  Fortunately, there's a book out to help.  Casey Hibbard has written Stories that Sell, which is literally a step-by-step playbook of how to create incredibly powerful marketing tools from customer stories.
In the book, Hibbard covers everything from planning the campaign, to finding the best stories (even stories you didn't know about), getting your customers to say yes to letting you tell their story, and how to create compelling stories that really stick.  There are 9 steps in all and she explains each one in detail so you can't possibly go astray.
This is a very practical and yet inspiring book.  You'll read it and know with confidence that you can hunt down the right stories and create amazing marketing materials from them.
Want even better news?  I have three signed copies to give away. Just leave a comment and we'll randomly select three lucky winners!
In the meantime…how are you using stories today in your marketing?  Or, how would you like to?