I fear that the word transparency may go the way of empowered, engaged and conversation — words that once meant something but have now been turned into business jargon.  I think one of the downsides of social media is that we are wearing out words at a rapid rate.
But….having said all that — one of the most important factors to remember about social media tools like Twitter is in fact….transparency.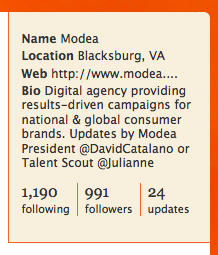 As businesses and marketing folks wrestle with how to participate on Twitter  but do it without any facades…lots of people are trying lots of different things.  One of the constant complaints about Twitter is that if a company is the Twitter ID….who are you really talking to?
The digital agency Modea has handled their Twitter account in a very smart and "look behind the curtain" way.  As you can see on this screen shot….although they are tweeting under the company name, they've identified who is the man (and woman) behind the curtain.
They're building equity in their brand but we don't feel like we're talking to an anonymous IT or marketing person.  Instead, we know it's David or Julianne.
We're all still trying to figure this stuff out…but this sure seems like a smart way to approach handling a company account.
Next step for Modea…I hope they'll start sharing more resources and knowledge.  It's great to learn more about what's happening at their agency — but I also want them to help be (and all of their followers) stay current and smart.
Everyone should decide how they want to use Twitter and connect with their community.  But…for me and MMG, the formula we've informally created is 85% of the time — provide value/resources.  10% of the time — chat and connect with other Tweeters and 5% of the time — promote our own agency and blog posts.
How about you — how are you staying transparent and what's your Tweet formula?