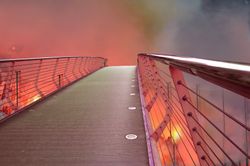 If you have a story to pitch to the media, choose the reporter or media outlet that is best suited for the story. But don't pitch the same story to competing media or more than reporter at the same media outlet.
Even if you score the story in two places…it will cost you in credibility. And the next time you pick up the phone with a hot lead – the reporter you burned will never bother returning your call.
If you have a story or event that you think is worthy of everyone's attention – then at least give each station or paper a different angle to cover, so that they all get to report a fresh story.  
Just like any relationship – a relationship with a reporter will quickly sour if you lie or make them look stupid. Remember, the more you help them do their job, the more they can help you do yours.
P.S.  You can substitute the word blogger for reporter and voila, a bit of your blogger outreach program!