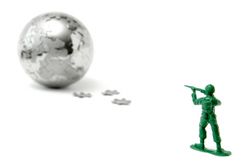 Drew's Note:  As I try to do every Friday, I'm pleased to bring you a guest post.  Meet another  thought leader who shares his insights via the blogosphere. So without further ado…Cory Isaacson.  Again. Enjoy!

The economy is challenging investors and entrepreneurs like never before.  The bottomless well of funding has officially dried up as the fight for investment capital has become an all out war. 
Yesterday's business plan needs to be today's battle plan, and for an entrepreneur, the ultimate validation for the battle plan will be its ability to connect a defined value proposition to a clear and attainable business metric.
If not, then the real question one has to ask is "who really cares?"  As glib as that may sound, it should be a fundamental concern for any entrepreneur with a vision and the inspiration to put forth his or her thinking.  
First things first, you need a clearly defined value proposition that answers two simple questions: 
how will it disrupt the marketplace?
how will it be profitable? 
Coming up with the answers to these questions will be a challenge – it should not be a comfortable process, challenging yourself never is.  If those two questions are not answered, forget about it and head back to the drawing board.  Conversely, if it does answer those two questions, then you're one step closer to arming yourself with a battle plan.  
A bullet proof value proposition becomes your arsenal and shield, capable of mounting a solid offensive as well as defending the battle plan from the nonbelievers and an unpredictable business climate.  By clearly demonstrating how the value proposition can transcend the challenges posed by the marketplace, an entrepreneur will then be able illustrate the opportunity for growth.
By illustrating that opportunity for growth, you're ready for war.  It was with this very concise but simple approach that we drove the creation of the original Walton | Isaacson battle plan for "The Planet's Most Interesting Agency" – and in turn, generated the interest and funding of entrepreneur, media mogul, NBA legend and our partner, Earvin "Magic" Johnson.
There will be more losers than winners during this time of economic crisis.  However, those entrepreneurs who fiercely believe in what they're doing stand the best chance of winning.  The only factor any investor really cares about is results, and if results can be clearly communicated through your value proposition in a simple and direct manner, your vision and battle plan will become a well-funded reality.
Cory Isaacson's expertise in developing and executing highly successful marketing programs is widely regarded throughout the industry. Over the years he has been recognized for his groundbreaking work, including Jack Daniel's Studio #7, Hanes Hosiery / Tina Turner, Kodak / House of Blues, Burger King / Backstreet Boys, HP Moving Fashion Forward, Budweiser / Rolling Stones, and Ericsson's "Power of  Voice" with Celine Dion.  His unique approach has earned him numerous industry awards, including PROMO's Pro Award, Ex Awards and Effies. 
 
Isaacson holds a Bachelor of Arts degree in history from the University of Wisconsin and has taught MBA classes on entertainment marketing at Tulane University.  Cory currently resides with his family in Chicago and is a partner at Walton | Isaacson.
 
 
Every Friday is "grab the mic" day.  Want to grab the mic and be a guest blogger on Drew's Marketing Minute?  Shoot me an e-mail.