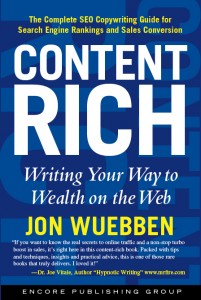 One of the most common questions I get asked is…how do I get more people to my site/blog?
Assuming you're writing good, valuable content and you don't have a big budget to buy your traffic, the answer is:  write in a way that makes the search engines love you.
This is where Jon Wuebben's new book, Content Rich: Writing Your Way to Wealth on the Web comes in.
I have to admit, when I got the review copy of the book in the mail I sort of gritted my teeth.  This did not look like fun reading.
But I'm happy to report that I was wrong.  Wuebben's writing style is engaging and accessible.  Even an absolute novice will be able to follow his train of thought and examples.
The book is written in three parts;
Part 1 covers the basics of SEO copywriting and lays the groundwork of what search engine optimization copy is, how the web analyzes content and basic keyword analysis tools.
Part 2 gives you all the options you have on the web from basic web sites, to wikis, newsletters, press releases, blogs, etc.
Part 3 offers real life examples of SEO copywriting that you can use as templates and guides as you create your own pieces.
Whether you want to be an SEO copywriter by trade or you just want to attract more visitors to your site — this book is worth the read.  There are some excellent case studies and plenty of pointers to put into immediate play.
This is a very practical and pragmatic book.  Lots more how to than theory — which is how it should be.