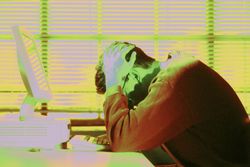 Drew's Note:  As I try to do every Friday, I'm pleased to bring you a guest post.  Meet another  thought leader who shares her insights via the blogosphere. So without further ado…MJ Ryan.  Again. Enjoy!
Have you ever encountered that "life stress" list that rates changes such as moving, death of a spouse, getting married, etc.?
The folks who created that list in the sixties estimate that life is 44% more stressful now than it was 50 years ago, and they came up with that estimate before the 2008 global meltdown. I'm not sure we even want to know the new number!
Chances are you're confronting some change you never asked for—perhaps a loss of job. Or some dream. Maybe you have to have to learn to work in new ways or find a new place to live.  I'm sorry if it's difficult.
None of us knows what the future holds. But there is something we can do right now—develop the ability to adapt. As far as I can tell, it's the key indicator of success in these turbulent times. AdaptAbility is the capacity to be flexible and resourceful in the face of ever-changing conditions. To respond in a resilient and productive manner when change is required. Some of us already know how to easily do this. The rest of us need to learn–quickly.
Resisting change wears down our bodies, taxes our minds and deflates our spirits. We keep doing the things that have always worked before with depressingly diminishing results. We expend precious energy looking around for someone to blame—ourselves, another person, or the world. We worry obsessively. We get stuck in the past, lost in bitterness or anger. Or we fall into denial–everything's fine, I don't have to do anything different. Or magical thinking–something or someone will come along to rescue me from having to change.
We don't want to leave the cozy comfort of the known and familiar for the scary wilderness of that which we've never experienced. And so we rail against it and stay stuck.
Fortunately, once you become conscious of how to adapt, you can face future changes with greater confidence and swiftness.
Want further incentive to learn? Experts in mind-body medicine have shown that people who are master adapters live longer and healthier lives than others. How come? Because they counterbalance the stress hormones that wear down our bodies with positive attitudes and behaviors that release feel good hormones which restore balance to our cells, organs, and tissue. That's why many health experts define health itself as AdaptAbility.
When the environment changes and we must therefore too, it's appropriate to complain, to take, in the words of Dr. Pamela Peeke, the BMW (Bitch, Moan and Whine) out for a little spin. But soon it's time to put it back in the driveway and get down to business. We are all being called on to stretch mentally, emotionally, and spiritually into the future. We can do it!
MJ Ryan is an inspirational author and coach; internationally recognized as a leading change expert. Dubbed "an expert in human fulfillment," she specializes in coaching high performance executives, entrepreneurs, individuals, and leadership teams around the world. Her work is based on a combination of positive psychology, strengths-based coaching, the wisdom traditions, and cutting edge brain research.
Her new book, titled "AdaptAbility: How to Survive Change You Didn't Ask For" was recently released published by Random House's Broadway Books.  She lives in the San Francisco Bay Area with her husband and daughter.
Every Friday is "grab the mic" day.  Want to grab the mic and be a guest blogger on Drew's Marketing Minute?  Shoot me an e-mail.