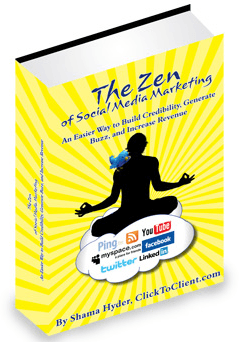 Shama Hyder loves to talk marketing, social media and connecting to your customers.   So I wasn't at all surprised to see that she'd written a no nonsense, hands on, practical e-book called The Zen of Social Media.
It covers a wide array of social media topics, including:
Where social media marketing fits in the bigger scheme of things
How to use Facebook, Twitter, and LinkedIn for online marketing, in an ethical manner
How to drive traffic to your sites
How to generate qualified leads
How to find and create strategic joint venture (JV) relationships using social media
How to build credibility and establish expertise
How to build your e-zine/newsletter list
How to get speaking engagements
How to make your website or blog the HUB of your online marketing efforts
How to measure your social media marketing efforts
How to build your own community of fans
How to leverage your past success to get future clients
What you must have before you start social media marketing
The #1 reason people fail at social media marketing… and how to avoid that mistake
It's a good read.  Shama adds lots of her personality and personal experiences into the book as well, so it feels like you're learning from an old friend.   You can buy it here and in an instant, it will be in your in-box.
Even if you don't see yourself executing all of the above..it's an excellent primer so that you'll be in the know.  And who doesn't want that?
What's even better….and I know you are wondering how that could be possible…but again, no surprise if you know her, Shama is offering a FREE copy to any and all non-profits.  So all of you non-profits out there…e-mail Shama at info[at]ClicktoClient.com and request your free copy today.