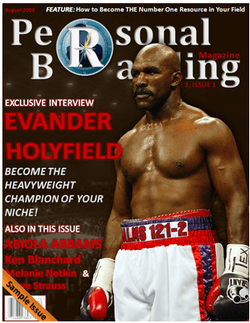 The latest issue of Dan Schawbel's magazine Personal Branding has hit the streets (figuratively!) and you can get a free sample copy by clicking here.
In this issue, you'll find:
Full paid issue (August 1st):  28 articles total covering information and advice related to dominating your niche and building your brand.
Sample issue:  8 articles total, including how to become the #1 resource in your field and how to become an A-list star.
Interviews with:  Evander Holyfield, Abiola Abrams, Ken Blanchard, Melanie Notkin and Steve Strauss
Enjoy the good reads!