Okay, so maybe that isn't so surprising.  But how about this…they'd also give up their Pradas (shoes and purses, guys) or chocolate before they'd give up their social networks.
But, if Facebook or the others began to charge a fee for membership….50% of the women would bolt.
So says a study done by ShesConnected Multimedia.
More than one-third (36%) of online US and Canadian women would give up chocolate, their Pradas, or their mother-in-law before they gave up their social networks, but only half would be willing to pay subscription fees to continue using such networks, according to a research study and report by ShesConnected Multimedia.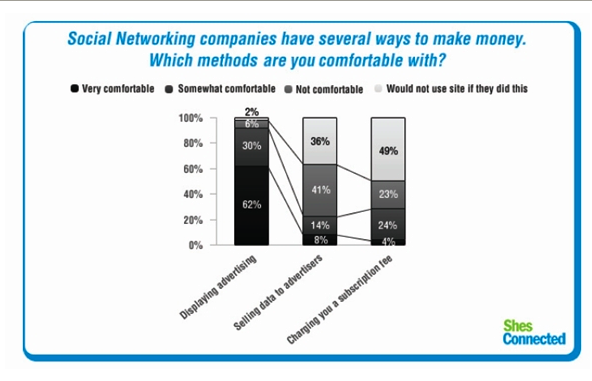 The study, "The Power of Social Networking for Women," asked women in the US and Canada how they are using social networks and found that 53% of online women use social networks at least weekly, and that social-networking women – most of whom are highly engaged and comfortable with technology – are one of the fastest growing segments on social networking sites.
Women are also most comfortable with ad-supported revenue models for social networking sites, the survey found.  While 92% have some degree of comfort with seeing ads on social networking sites, only 22% say the same about selling data to advertisers and 28% have comfort with a subscription-based model. Nearly half (49%) say they would not use a social networking site if It charged them a subscription fee.
The study also looks at what features are must haves, reasons for belonging etc.
Check out these additional stats from the report:
More than two-thirds (67%) of survey respondents belong to three social networks, while 48% belong to four or more.
The adoption of social networks by older women is especially strong. Women ages 50+ comprised the largest age group in the core user survey.
Women using social networks are highly educated, with 23% of respondents having a masters, PhD, or other advanced degree (vs. 8% nationally).
More than one-third report they are in business for themselves.
Respondents spend a significant amount of time online each day, with 49% reporting they spend 1 – 2 hours per day for personal use and 48% reporting they spend five or more hours per day online for work.
83% of respondents have 50 or more connections or friends.
56% have started at least one group and have joined an average of two to five groups. Nearly one in three (29%) belong to 10 or more groups.